When Performance Matters
Brady Corporation is an international manufacturer and marketer of complete solutions that identify and protect people, products and places. Brady's products help customers increase safety, security, productivity and performance and include high-performance labels, signs, safety devices, printing systems and software.
Simply put, we do what others don't in ways they can't.  We offer innovative products backed by years of research and development.  Beyond our quality products and reliable solutions, we add value for our customers through strong partnerships and a commitment to solving important problems.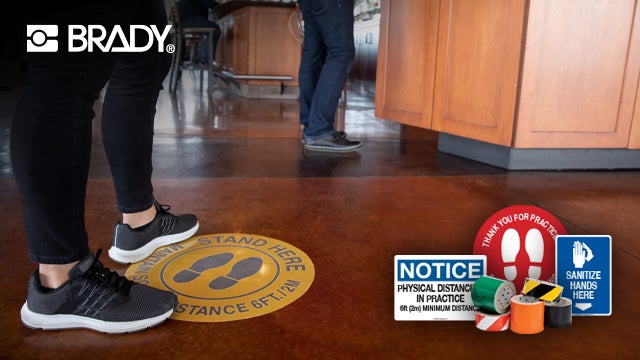 From signage and posters to printing systems and materials, Brady continues to make safety a priority.
In this new era of social distancing, you need visual identification for each part of your business to ensure the health and safety of all your employees and customers. Although every business environment is unique, here are some examples of key products to use in specific areas to ensure proper social distancing regulations are observed.
Entry/Exit
Aisles and passageways
Checkout
Pick-up/Drop-off spots
Restrooms
Lobby/Waiting Areas
Communal Spaces (employee break rooms, cafeterias, reception areas, etc.)
Manufacturing