We're right where you need us most
To get the job done, you need the right products, in the right amounts, in the right place, at the right time. What you don't need is to be spending all your time dealing with this. Our innovative on-site supply programs redefine local supply, improving your productivity, risk management and cost control.
We'll work with you to streamline your operations, scaling our support as you grow and expand into new markets, all the while delivering the high level of personal customer service you've come to expect from Vallen.
Wherever your construction project or plant shutdown is located, we'll deliver a product supply solution for you. Regardless of the size of your operation or workforce, our mobile and scalable on-site supply programs will help you manage your inventory, safety services and equipment rentals. Our fleet consists of full 48-foot trailers for large scale projects and 20-foot mini trailers for smaller projects, all delivered fully stocked to your site.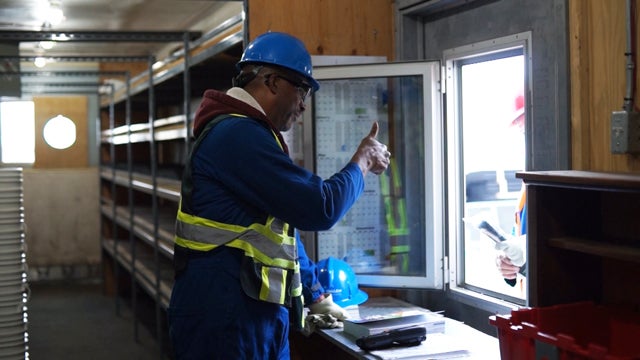 Improve your productivity
Whether your workforce is 50 or 5,000 or more, our fully-equipped mobile warehouses stock the right products at levels that match your needs. All products are barcoded for speed and accuracy, letting you generate daily reports to better monitor inventory levels and expenditures. And since you only pay for what you use, you're never stuck with excess inventory. No premiums. No hidden charges.
Time is money
Having what you need where and when you need it puts an end to time-wasting requisitions, misplaced shipments, expedited shipping delays and costs. You specify what approved products are stocked, ensuring site compliance and price predictability. Plus, your workers are not spending their time walking all around the site to get the supplies they need. An on-site product supply solution limits your need for inventory management staffing, and we'll look after the delivery and removal of the on-site warehouse.
Greater control of your procurement needs
Our on-site supply programs let you customize product dispensing permissions to improve inventory control. Usage tracking makes workers more accountable for their product consumption and reduces waste. Having approved products on hand ensures compliance and also reduces rogue buying from the site. Easy invoice management (weekly grouped invoices including special orders, labour, ins-outs and freight) lets you monitor and manage your costs.
Vendor Managed Inventory
Our cost-effective Vendor Managed Inventory program manages low value, high volume consumables. You'll enjoy optimum inventory replenishment, reliable supply and reduced inventory levels, virtually eliminating redundancies in your procurement process. Learn more about our Vendor Managed Inventory here.
Mobile Safety Services
Our fleet of fully-equipped vehicles and certified technicians can visit your site to complete annual programs for your fire, respiratory and fall protection equipment.  Learn more about our Safety Services here.