The Tyrolit Group
Tyrolit is one of the world's leading manufacturers of Cutting, grinding and dressing tools for industry.
The family-owned company, which was founded in 1919 and is a member of the Swarovski Group, is based in Schwaz, Austria, and currently has over 4,300 employees at 26 production locations in 11 countries and on 5 continents. Tyrolit manufactures over 80,000 different products and they are offered to customers all over the world by 35 Tyrolit sales offices. Tyrolit products grind cut and drill almost any material of any hardness using advanced technology from Tyrol. The experts at Tyrolit are known throughout the world for mastering a wide variety of challenges and are highly sought-after partners in the development of new and innovative solutions.
Tyrolit Canada is a proud member of the global Tyrolit family and we are looking forward with great anticipation to see what the future brings. We are dedicated professionals, excited about our products and services and stand ready to serve the professionals who use our abrasives, and the distributors who represent us. We are here to help you work more efficiently, more safely and more productively.
Featured Product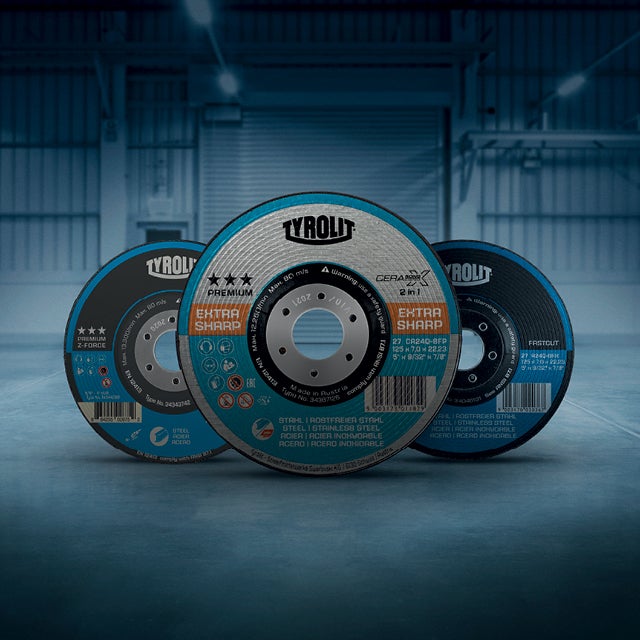 We are excited to Introduce Fastcut Premium. Grind faster than ever before!
Our best-selling grinding and fitting wheels represent the superior comfort and performance Tyrolit is known for worldwide. Designed and engineered for high removal rates and long life in many different materials, these wheels are smooth and easy to control bringing optimal performance to each job.
Product Education
LONGLIFE C Trim Self trimming flap discs for steel and stainless steel
The LONGLIFE C-TRIM can be used on high alloyed steels and stainless steel, as well as on unalloyed and low alloyed steels. Problem-free weld-seam as well as edge and surface grinding, particularly when used on powerful angle grinders. Thanks to its compact design, a long lifetime is guaranteed during deburring of sharp edges on thin sheets.
Cerabond X Next Generation fibre discs
The combination of a hot-fired ceramic grain with our unique bond system guarantees lasting abrasiveness and an unrivalled lifetime.

The CERABOND X fibre disc is your best choice for fast and convenient working with steel and stainless steel. With CERABOND X you hit your target faster - and this applies to surface grinding, removing welding seams, rust removal and deburring.
Rondeller® for steel and stainless steel: Ergonomic, cool and vibration-free grinding
The TYROLIT PREMIUM*** RONDELLER® combines the product advantages of different grinding tools with the easiest handling.

The unique geometry of the Rondeller® enables cool, ergonomic grinding that is kind to materials. Absolutely vibration-free use and optimal adaptation to the workpiece for all grinding, deburring and shaping applications means that curved surfaces can be perfectly machined.