June 7, 2019 - Vallen is pleased to announce the opening of a new branch in Sarnia, ON
Meet the Branch Manager
Seth Lipiatt is proud to serve as Sarnia's Branch Manager and brings with him 33 years of experience in the industrial supply market in Ontario. Seth is joined by brothers,  Pat and Steve Boone, and combined they have 90 years industry related experience serving customers in the Sarnia Lambton area.
"Sarnia is currently in a very exciting time right now and that forecast of business growth should remain strong for years to come. I believe that the new Vallen branch in Sarnia will play a key role in helping our customers work safely while increasing their productivity and profitability. Pat, Steve and I are super excited to be part of Team Vallen, proud to be starting and growing this branch in our home city, and honoured to have the opportunity to provide outstanding service to all our customers, long term and new. -Seth Lipiatt
Seth also has a passion for coaching and working with children. He has been a volunteer coach for 26 years with a minor league hockey team and the Olympia Sports Camp in Northern Ontario.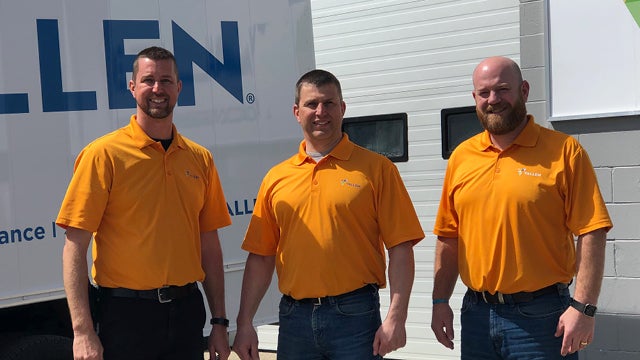 Interesting Fact. Did you know?
Among Sarnia's distinguished residents are Kim Mitchell, a rock musician and guitarist who also formed the Canadian rock band Max Webster.
AND
Retired Canadian Space Agency astronaut Chris Hadfield, who flew on two NASA Space Shuttle missions and served as the first Canadian commander of the International Space Station during Expedition 35, was born in Sarnia.
What We Do
The Sarnia sales team will be supporting all product categories of Industrial MRO, Safety and Facilities Maintenance products to our existing and new customers in the Ontario Interior.
A member of the Sonepar Canada group of companies, Vallen has been providing custom solutions and enhancing its customers' productivity through safety and compliance since 1937.
Come by and visit the branch at 824 Philip Street, Sarnia, Ontario, Monday through Friday 8am -4:30pm, or call us at 519-332-1777.
For information about the new Sarnia branch please contact:
Seth Lippiatt - seth.lippiatt@vallen.ca